call now to book a free design consultation 0800 644 0135 01737 233660 info@buildservices.co.uk



helpful downloads for home owners
It is our hope that we may be able to assist you in progressing your build, no matter how big or small your project. We have produced a number of leaflets designed to help our website visitors appreciate the complexity of undertaking a build, and all the factors associated with it. Please take the time to review these, we are sure that you will find them extremely helpful.
We have also attached some articles produced for the Challenger Magazine in Dorking & Reigate.
If you have any queries regarding these leaflets, then please do not hesitate to contact us on: 0800 644 0135, 01737 233660
or info@buildservices.co.uk
buildservices.co.uk home owners leaflet
If you have a friend or a family member considering home improvements, then download our leaflet and send it to them. You could save them a considerable sum of money by doing so.
7 steps towards a successful build
Download our seven steps towards a successful build. Simply click on each of the pictures below to open the file, then save it to your computer.
Each leaflet summarises the importance of each key stage of your build.
Building your own Home or Home Improvement… common sense or a missed opportunity!
This article examines the benefits of building your own home or home improvements as opposed to buying a new home. This article generated a lot of interest from its readers, and helped advise many to save the unnecessary expense of moving home.
Builders … they're not all rogues!
This article gave home owners advice on how to reduce the risk of appointing a rogue builder. From the phone calls that were generated from this article it was evident that many home owners still do not demand references from their builders or competitively tender their home improvements. I cannot express the importance enough to do this.
Target inefficiency & Understanding energy use
This article gave home owners advice on how to reduce their electrical consumption. You don't need to consider an extension or new build to examine your household energy use. A few simple ideas can help to dramatically reduce unnecessary waste, and save pennies at the same time.
Let your build flourish!
This article gave home owners advice on maximising the appeal of their property by framing it with a well presented garden. We had many callers request advice on the specifics of plants. We are not arboculturists, we are builders!!!
A brighter, healthier living environment!
This article gave home owners advice on maximising natural sunlight within their homes. To date it is this article that has generated the most interest from the readers of Challenger magazine. We have visited many properties to help repopulate areas of their homes that have been neglected or avoided due to a lack of natural sunlight. If you have a room that needs an electric light on all the time, then you need to give us a call.
Magazine & Online Articles
Buildservices.co.uk were asked to provide a series of articles based on building or home improvements. The following articles are examples of those which have been published by Challenger Magazine in Surrey.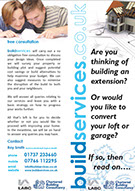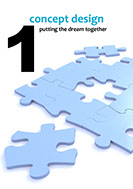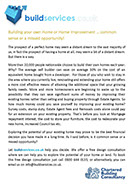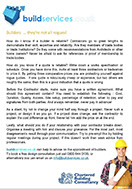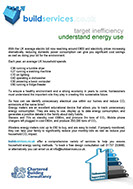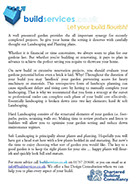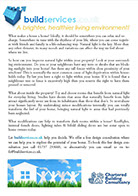 Architect, Project Management & Building Services in Surrey, Sussex, Kent © buildservices.co.uk 2016 All Rights Reserved